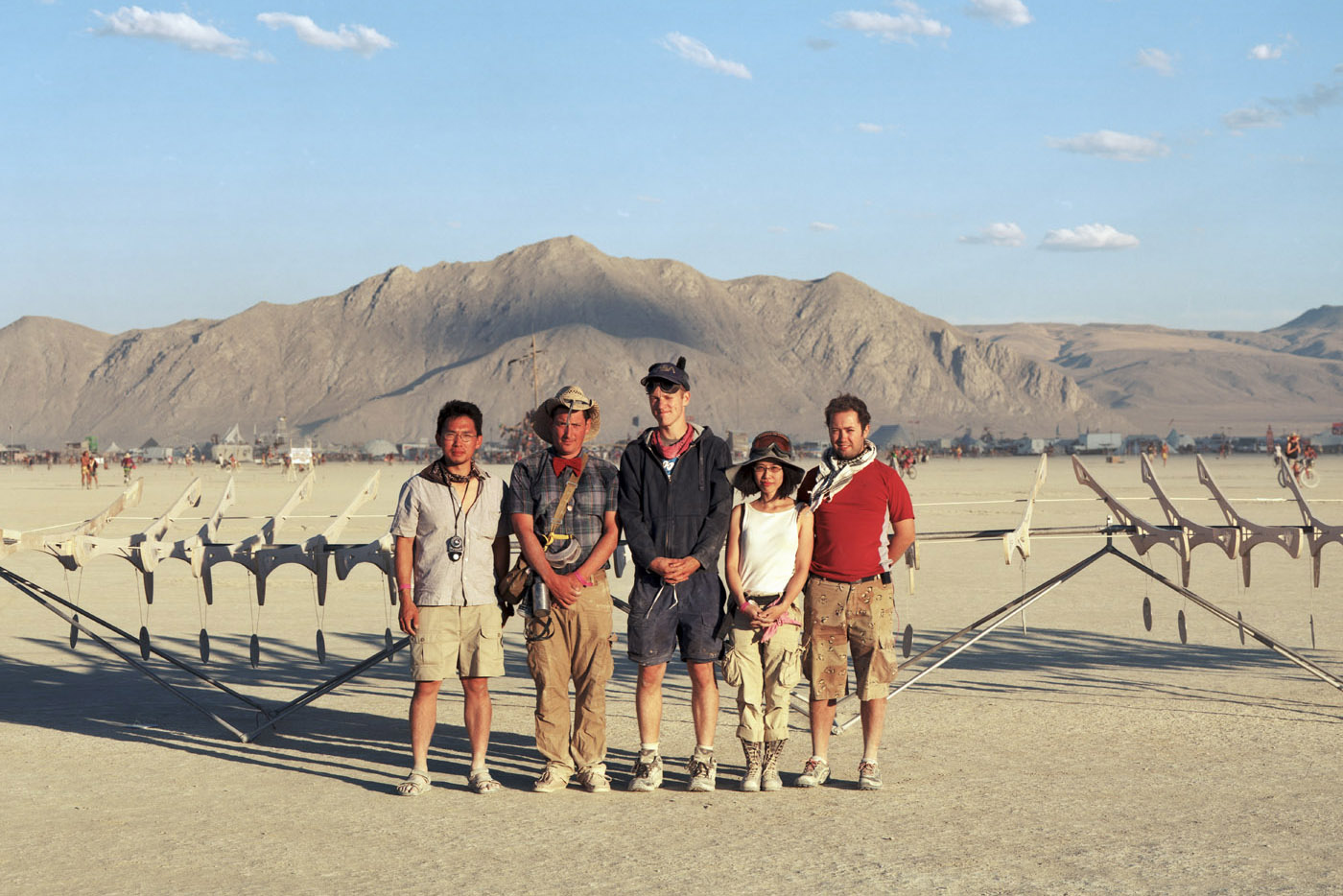 Through the Gorilla Glass, designGUILD, 2011. Jonah Humphrey, Andrea Ling, Spencer Rand, Patrick Svilans, Johnathon Wong. 2011 Scotiabank Nuit Blanche, Toronto, Ontario. 2011 Unsilent Night, Cambridge Ontario. 2012 Burning Man Arts Festival, Black Rock City, Nevada, USA. Poplar plywood, laser cut steel discs, galvanized steel tubing, cotton rope, bungee, LED light units on acrylic plates. Approximately 120'L x 10'W x 4'H.
Videos by Ian Sit & Jonah Humphrey.
Through the Gorilla Glass explores the ideas of communication through physical and spatial experience. Originally commissioned for Toronto's Scotiabank Nuit Blanche, the project was also invited to show at Burning Man 2012 in Black Rock City and Unsilent Night in Cambridge Ontario. Illuminated dancing wave patterns invite visitors to approach the piece, where a series of mechanical arms wave in sequence. The arms may be moved at different points along the length of the sculpture by visitors. As a visitor engages physically with the work's sculptural interface, waves of musical movement are triggered. The machine moves and reacts, triggering a series of sensors and lights, designed to respond to specific movements.

The goal was to create a work that reflects a more spatial understanding of the physical mechanisms that occur around interface. We are increasingly exposed to more refined approaches to technologically sophisticated interface whether they be touch type pads, stereoscopic projections, social networking services, or an ever expanding set of communication tools that broadcast every event in our lives, no matter how exciting or mundane. Many of these advances, such as Gorilla Glass, a thin scratch resistant glass developed by Corning and used in many touch screen interfaces, are consumer based, and interface developments at the level of public space and the physical environment have been limited. Our response has been to create a work that explores the idea of interface as something to be experienced by the audience in a truly spatial context, rendering the technology and means of transforming intent into action in a more direct, if not more accessible, fashion. The intent is to avoid extensive computerized technology and instead show the interface and the transformation of input into action at a base mechanical level.