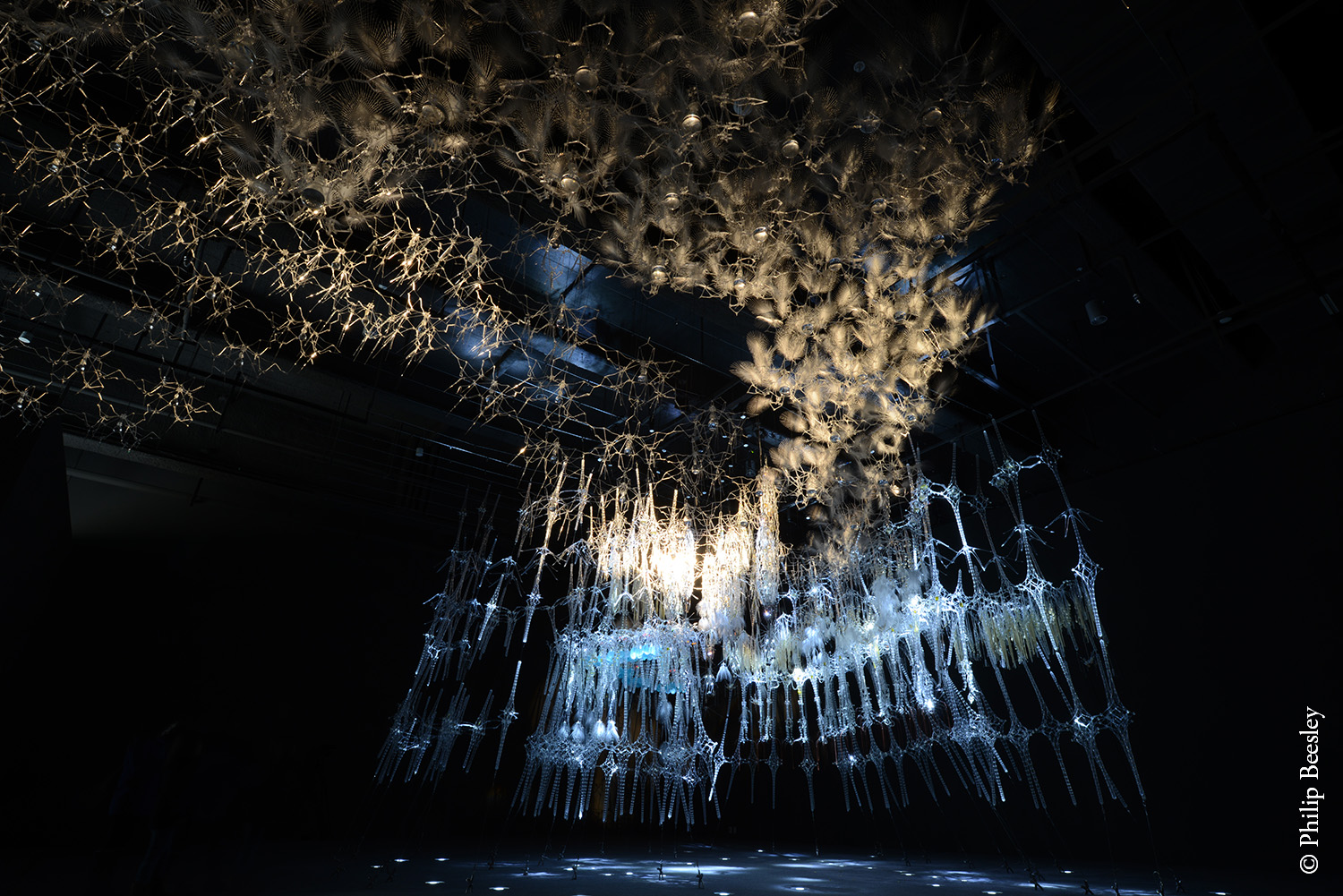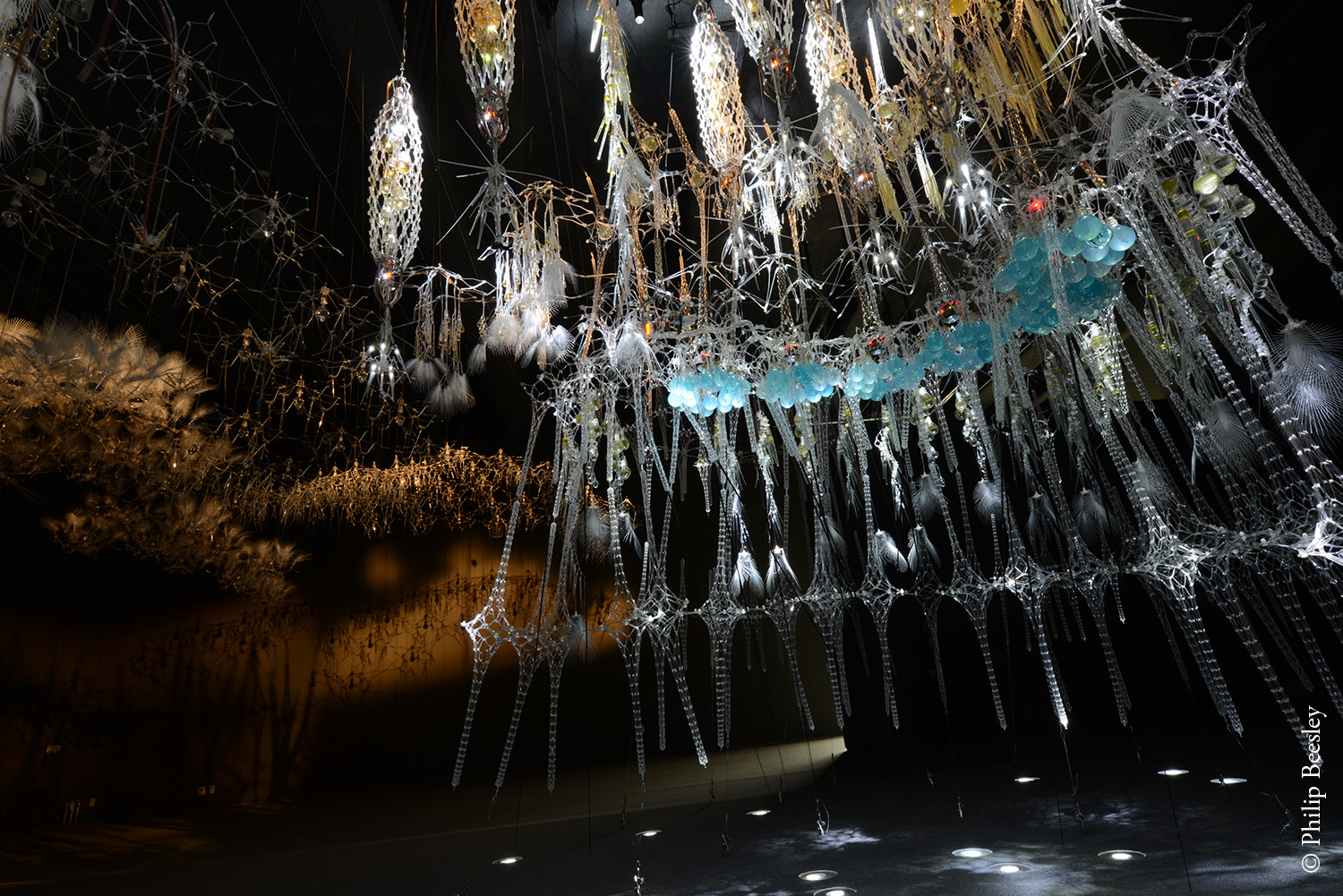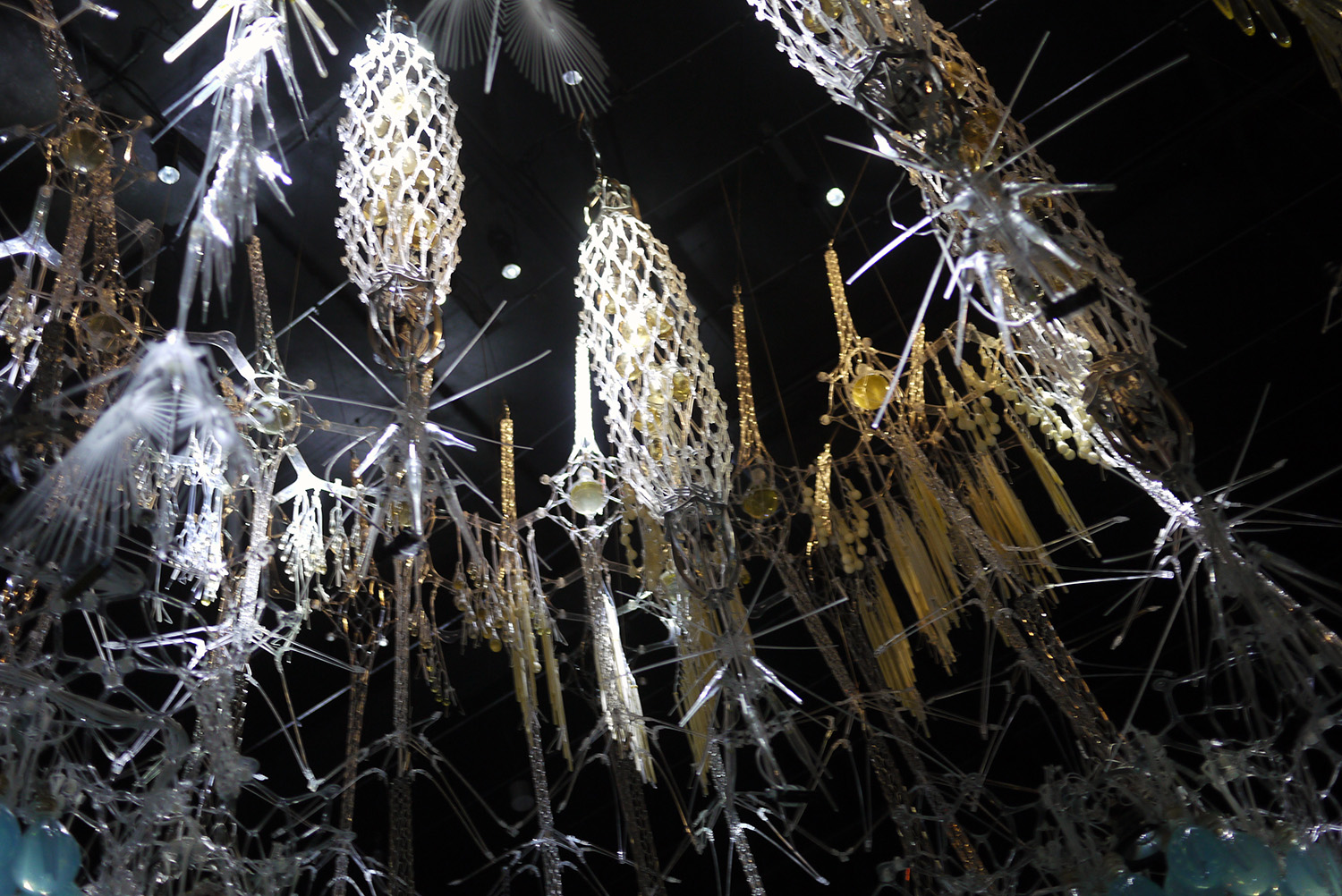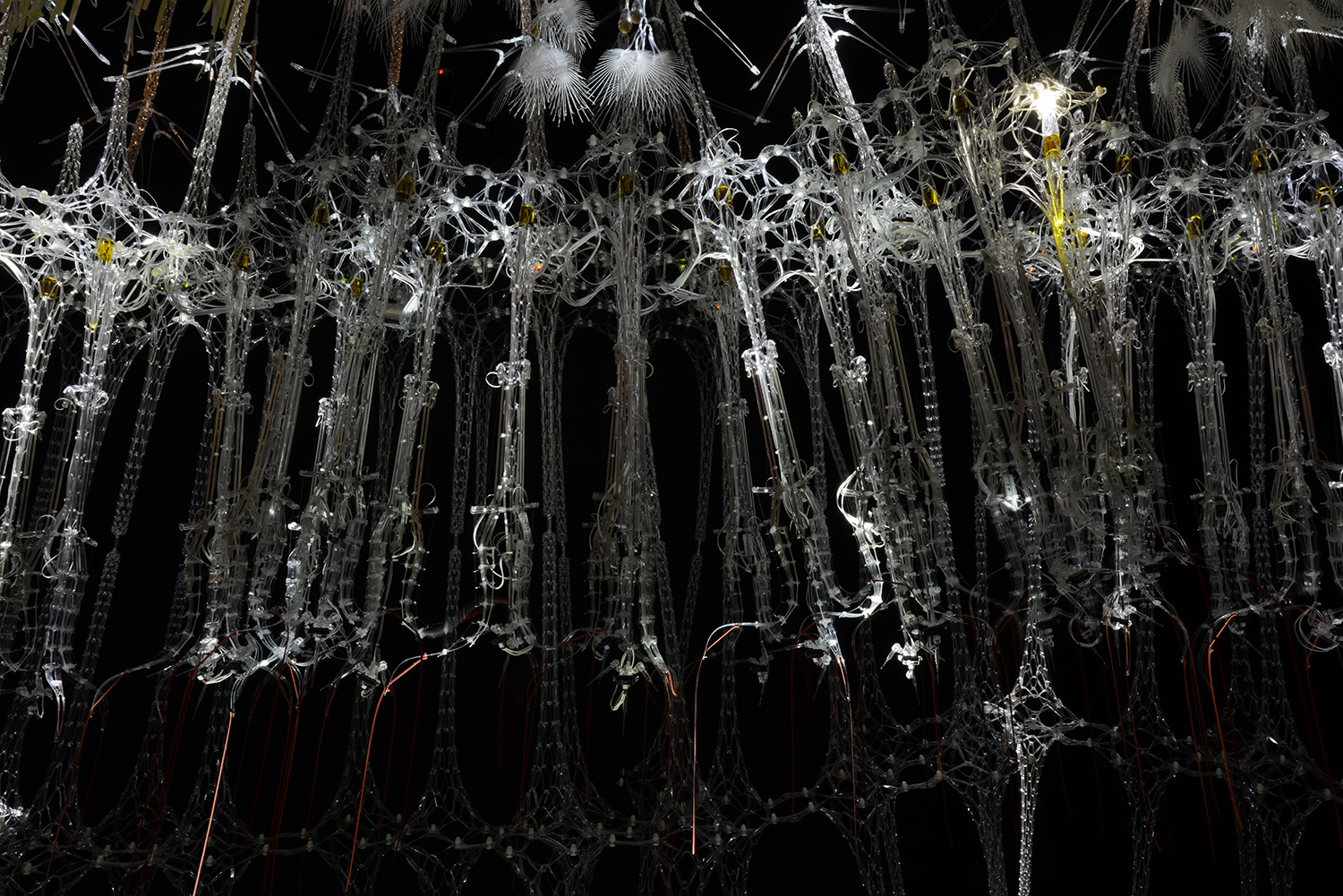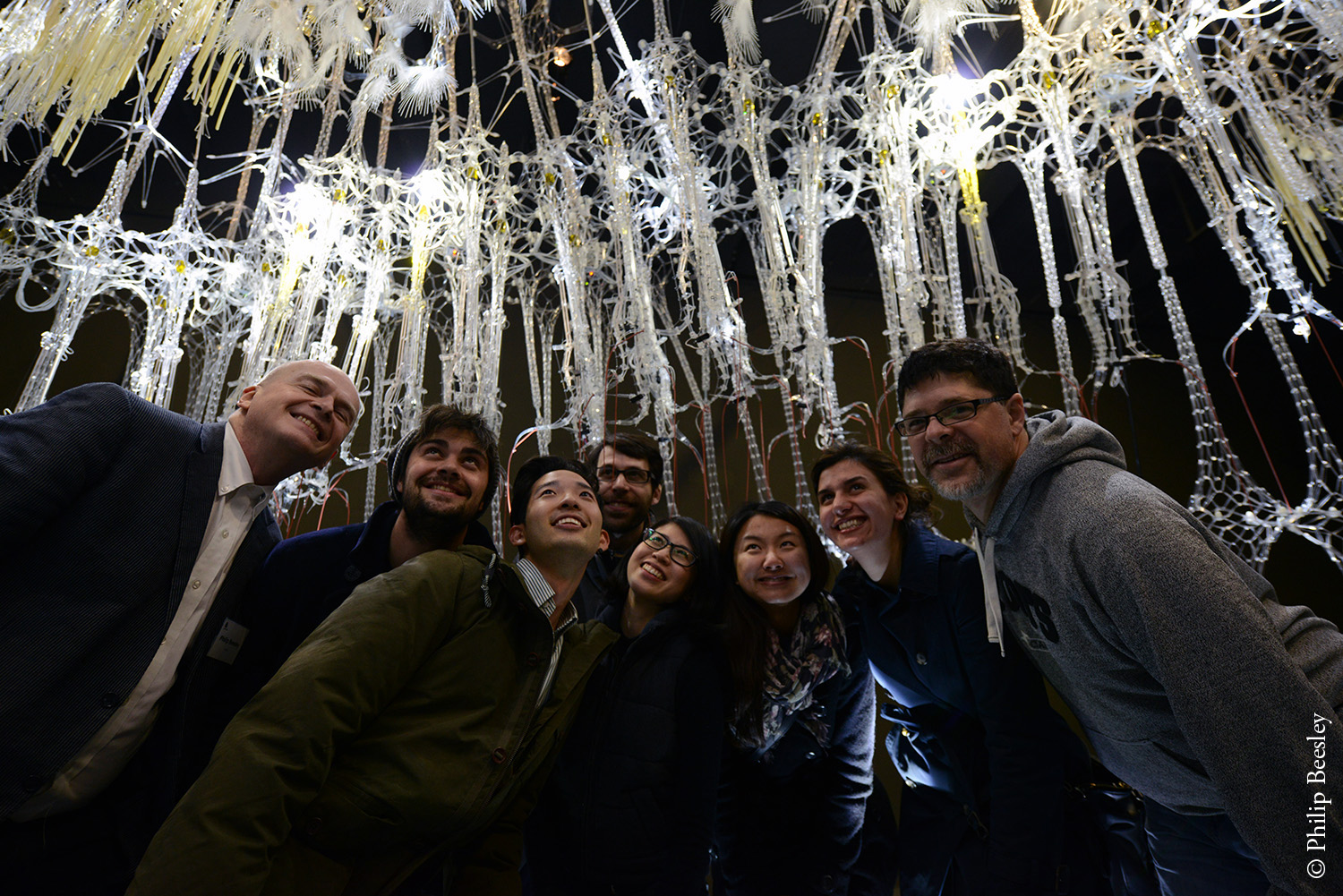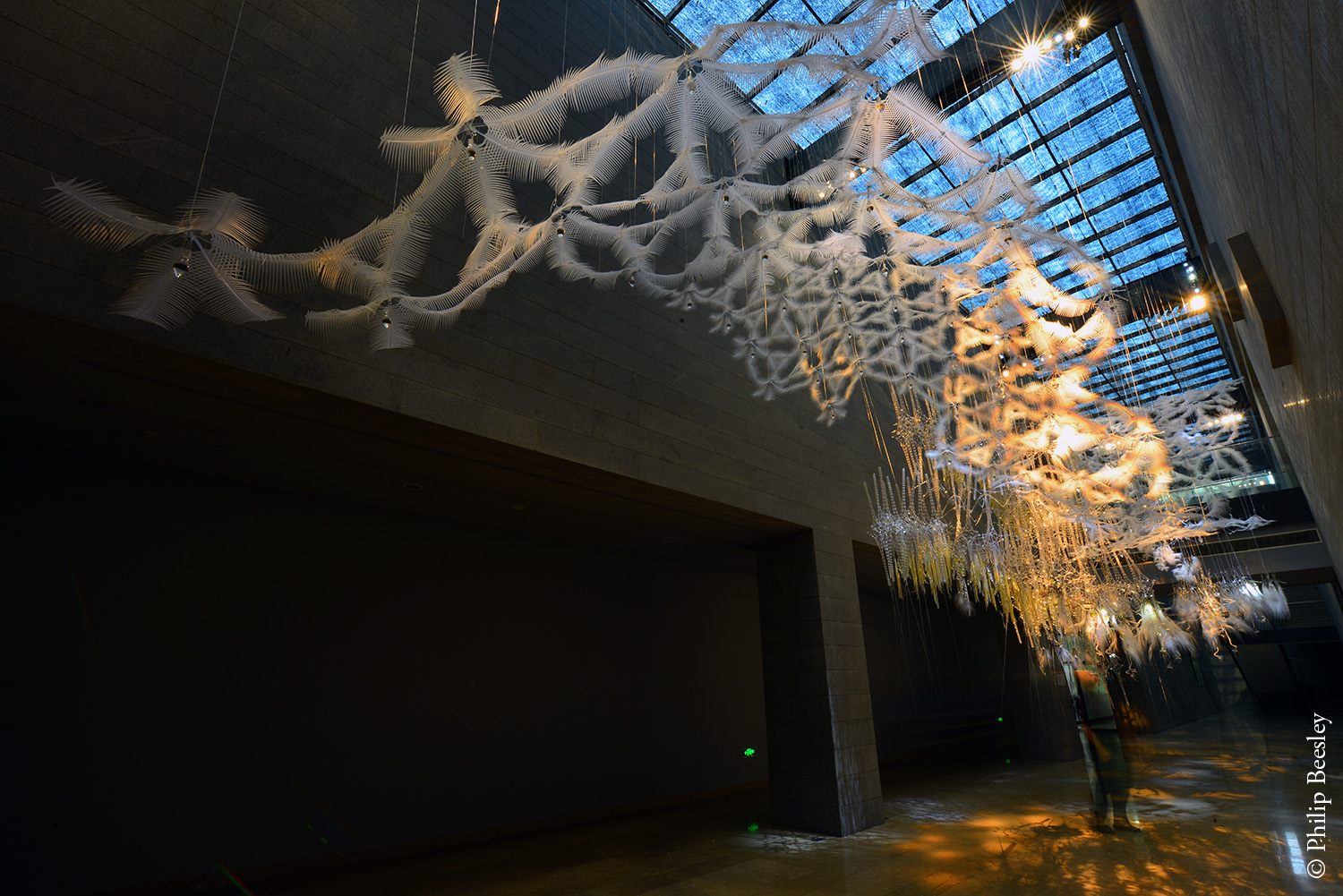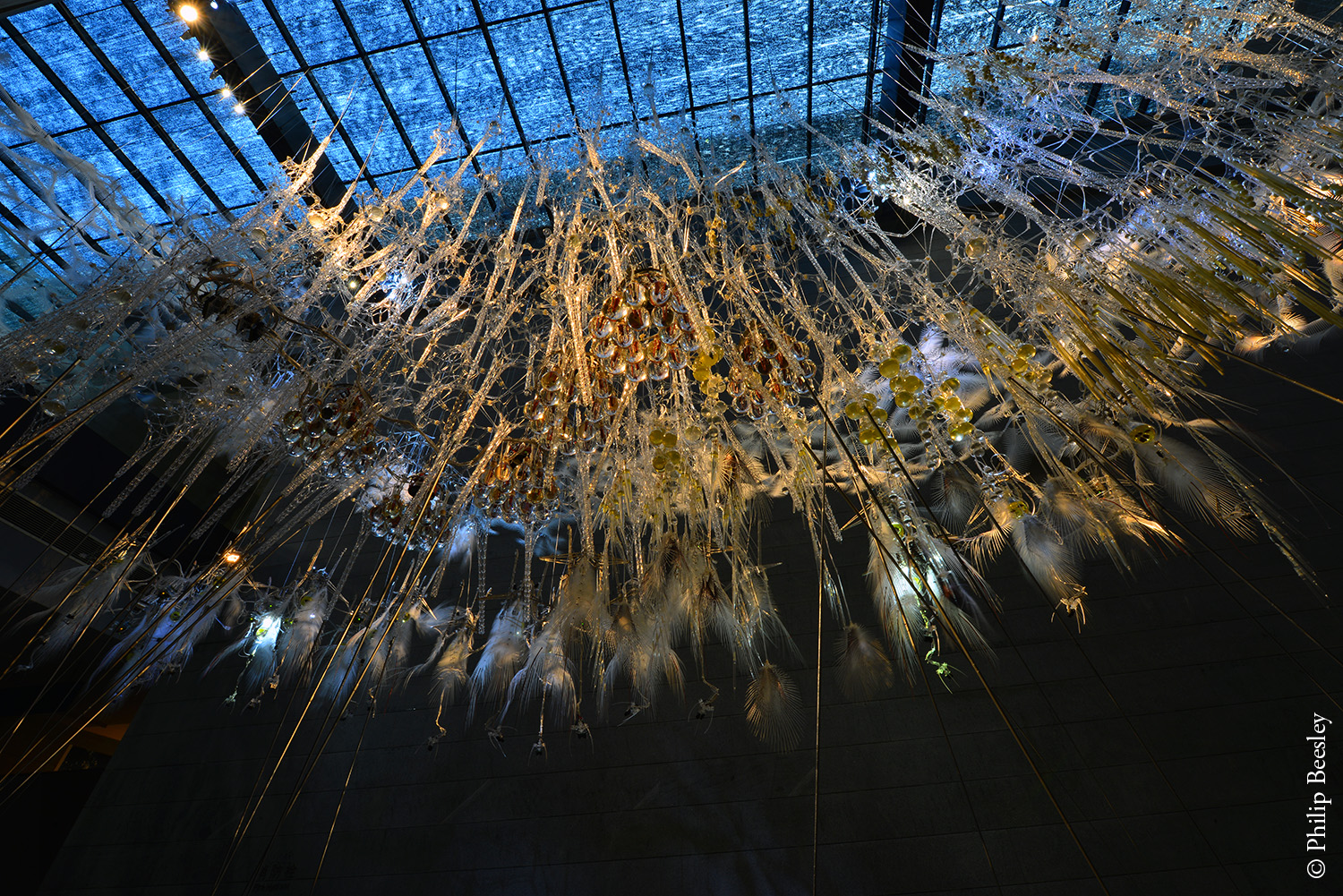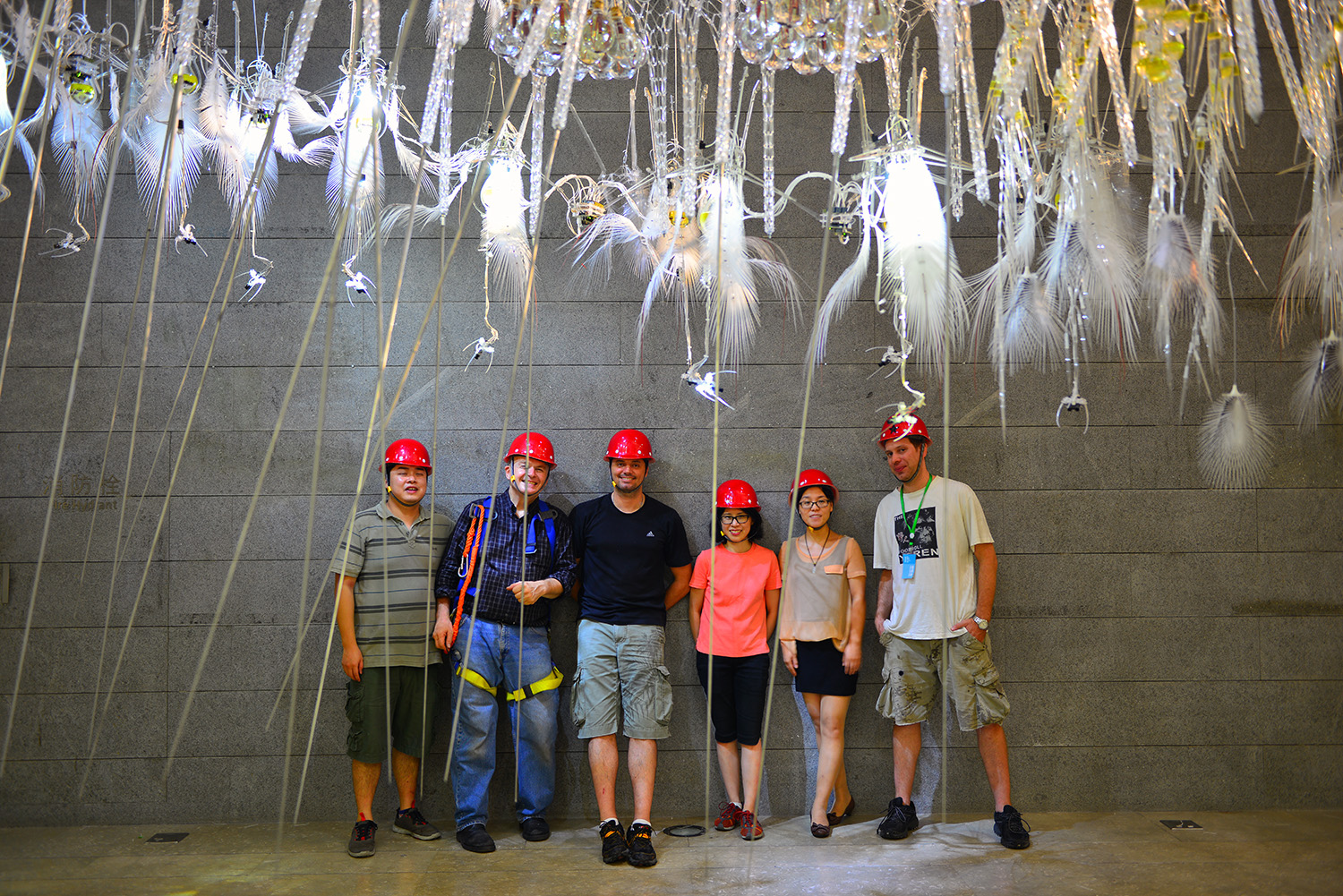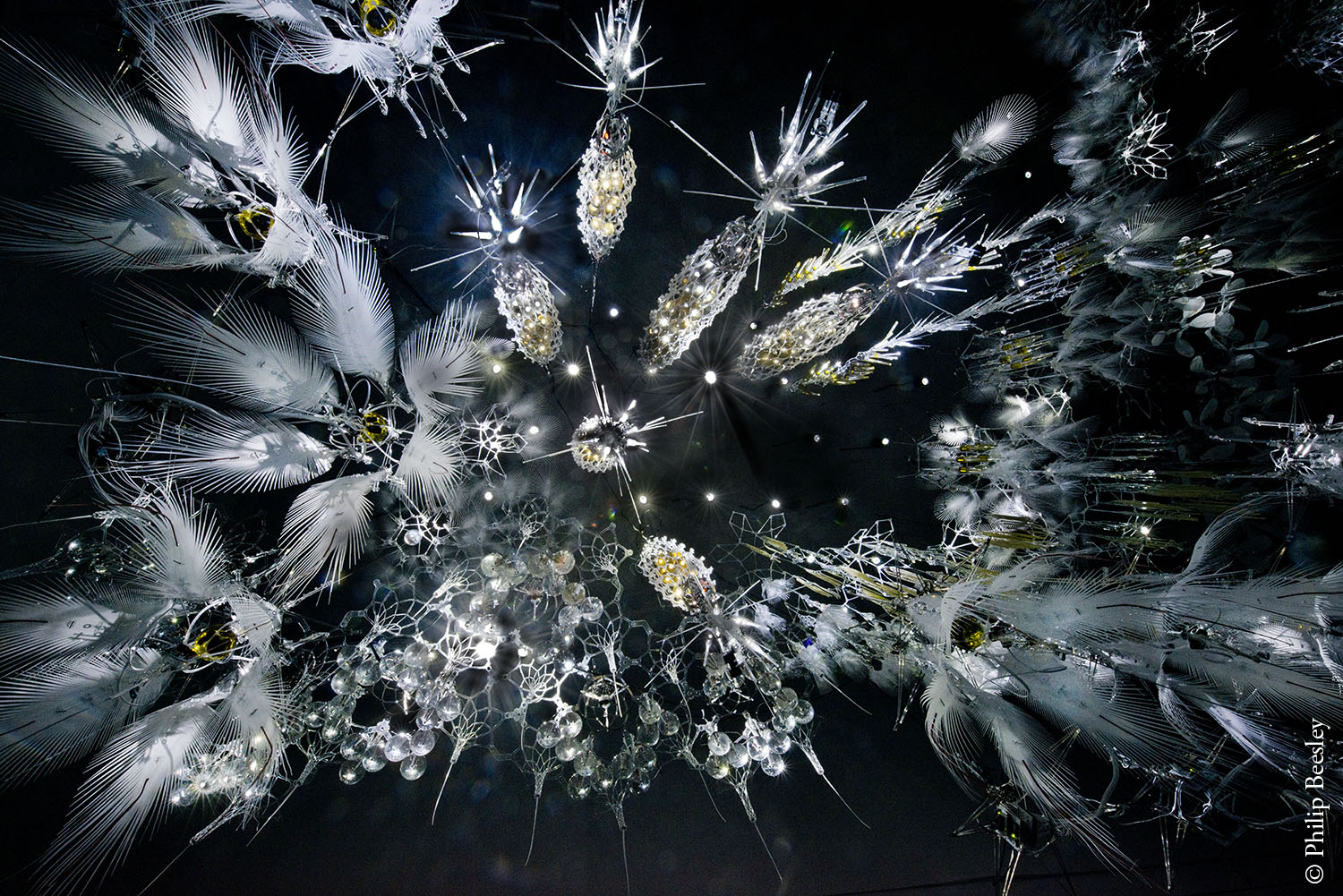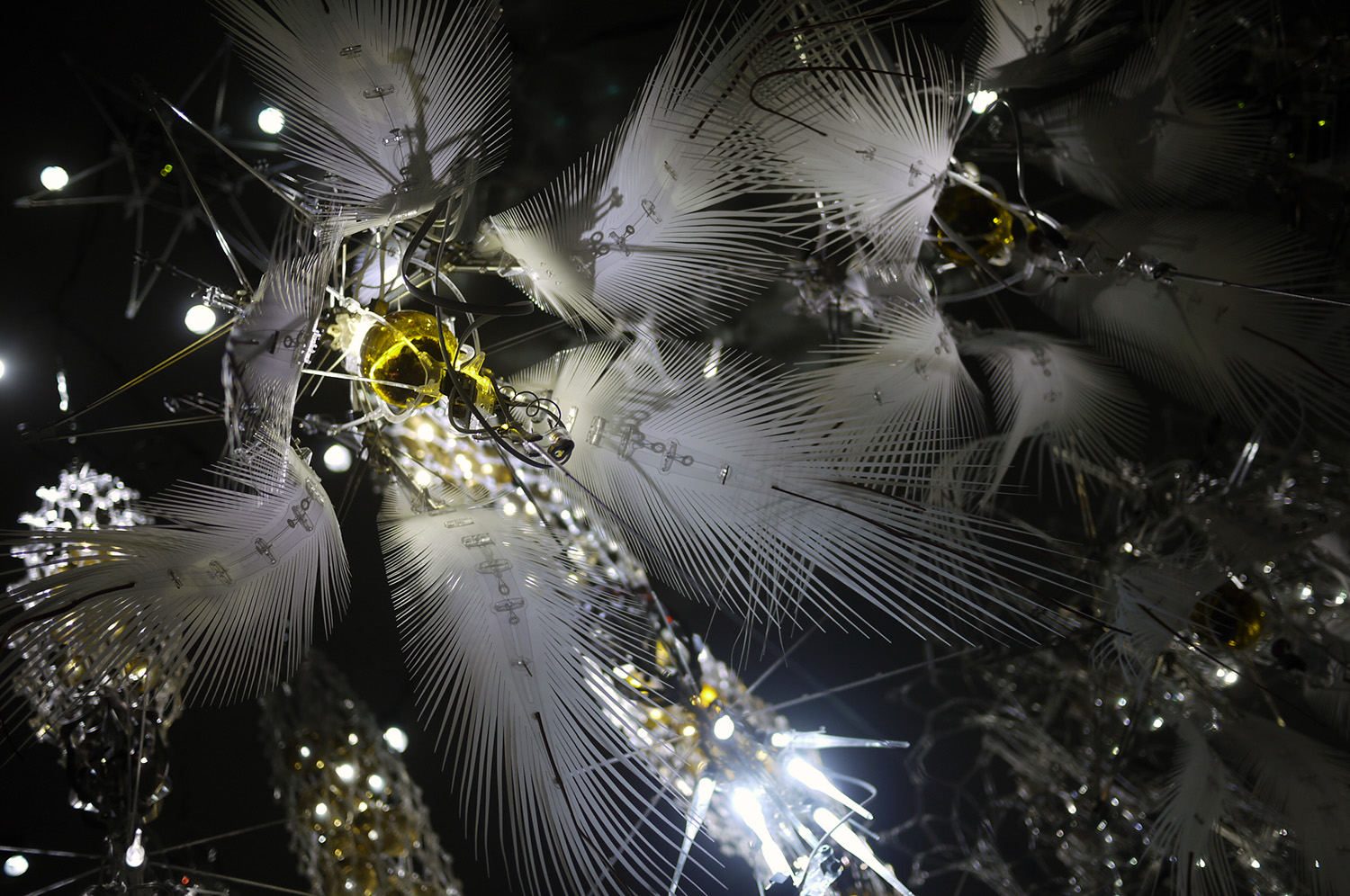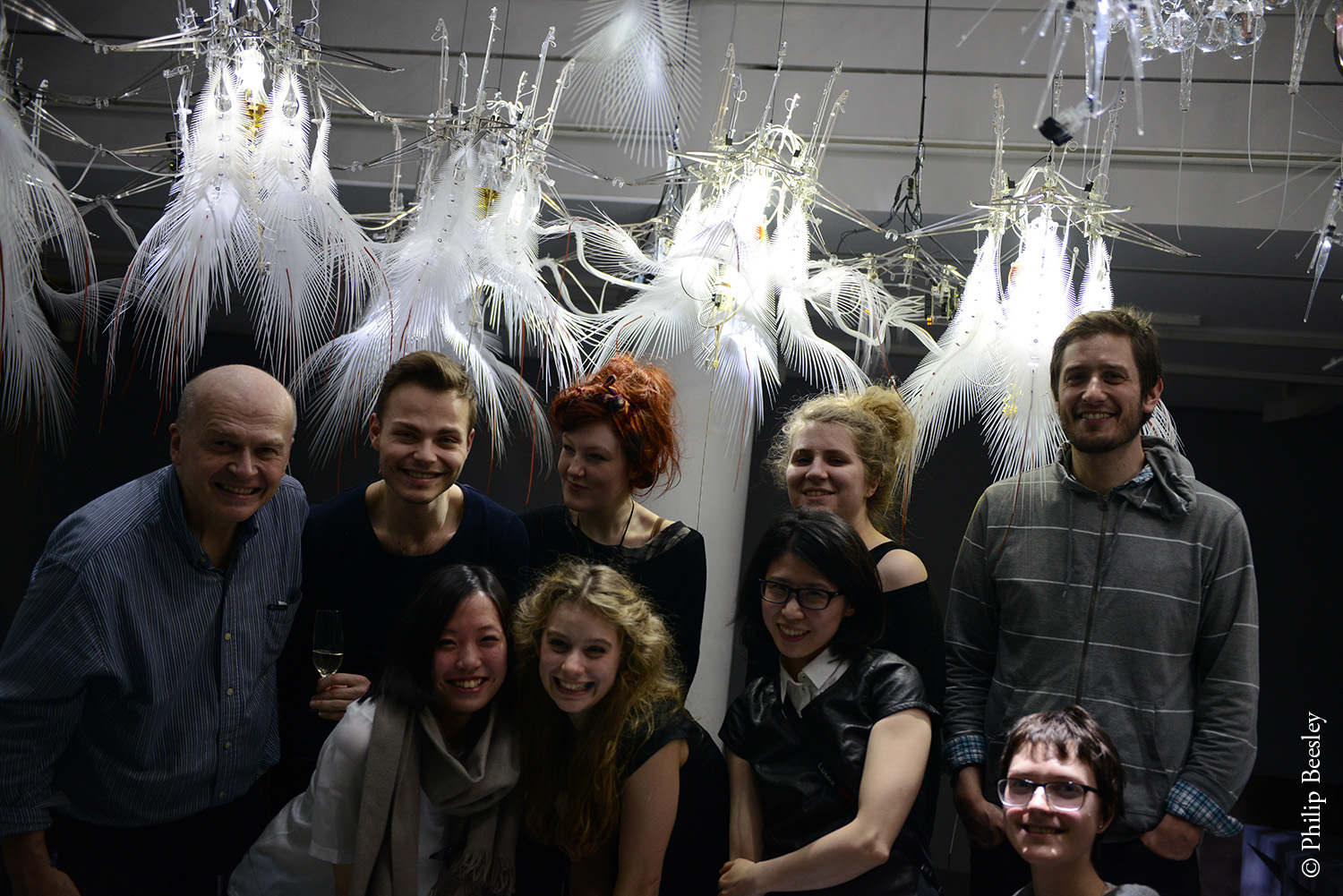 The Epiphyte series includes Epiphyte Chamber, Epiphyte Sping, and Radiant Soil by Philip Beesley Architect Inc. These experimental works explore the intersections between media art, interactive distributed mechatronics and synthetic biology. They make use of heat-formed acrylic latticework, vinegar batteries that trigger acoustical playback of droplets, protocell chemistry, scent glands, and reflexive tentacles that move in response to the activity of the occupants within the space.
Epiphyte Chamber, Museum of Modern and Contemporary Art, Seoul, Korea - 2013. Epiphyte Chamber was commissioned for the inaugural Aleph Exhibition at the Museum of Modern and Contemporary Art in Seoul, Korea. The chamber was envisioned as an archipelago of interconnected halo-like masses that mimic human sensations through subtle, coordinated movements. Across each floating island, densely interwoven structures and delicate canopies made of thousands of lightweight digitally-fabricated components are drawn together in nearly-synchronized breathing and whispers. Audiences walk into highly sensual, intimate sculptural spaces that support small clusters of activity interlinking into larger gathering areas.
Epiphyte Spring, Hangzhou Triennial Of Fiber Art, Hangzhou, China / Sept 21 - Nov 20, 2013. Epiphyte Spring pursues a work founded in intimacy and touch. This works in quiet ways, setting out ghost-like crystalline forms following diagrids and textile forms in order to make lightweight, resonant scaffolds. Networks of simple computational devices and sensors allow viewers to be tracked, offering small increments of gentle muscular movements that register our own presence, rippling back to us, starting to offer a sense of breathing, ambient architecture. The structures of this space offer clutching, and pulling, imparting a fertile turbulence.
Radiant Soil, ALIVE / EN VIE exhibition at Espace EDF Fondation, Paris, France / April 25 - September 1, 2013. Radiant Soil forms interlinking clouds of industrial design biomimetic components of polymer, metal and glass, arranged in suspended filter layers contain a near-living carbon-capture metabolism. Frond-clusters fitted with shape-memory alloy mechanisms react to viewers as they approach, flexing and setting off bursts of light that stimulate the protocells and trigger chains of motion that ripple throughout the environment. Scent-emitting glands attract viewers and encourage interaction with the system, providing stimulus that increases air circulation and protocell formation.
© Philip Beesley Architect Inc.